Welcome to Somerville Recreation Centre
Please Follow Public Health Orders in Venue
We are open and follow all current public health orders. All patrons aged 12 years and 2 months or older MUST provide proof of vaccination upon entry. Restrictions are in place to support social distancing requirements. Remember check in via the Services VIC QR code at the entrance. Please refer to our COVID Updates page for more information.
Welcome to Somerville Recreation Centre

The state-of-the-art complex has put Somerville at the forefront of sport, recreation, and health & wellbeing venues in Victoria.
The vision for this multi-pupose venue is to cater for the health, wellbeing, recreational and competitive sporting needs of Somerville and surrounding areas, now and into the future.
The newly re-developed centre features a competition-level four-court stadium, new accessible features and a range of health and wellness classes available for the community. Childcare services are available to support members to focus on their needs, confident that their little ones are in professional hands.

Somerville Recreation Centre provides a great opportunity for residents from across the Peninsula to engage in sport and physical activity and is proudly supported by our major partners; Western Port Basketball Association and Mornington Peninsula Badminton Inc..
Proudly managed by Belgravia Leisure, our centre facilities include approximately 100 car park spaces for users, with security lighting and CCTV cameras, site service infrastructure and modern communications services.
Come visit Somerville Recreation Centre today to make the most of these incredible facilities!


Frequently Asked Questions
Will I need to provide proof of my double Covid-19 vaccination status?
Yes, in line with the latest Vic Government advice, anyone 12 years & 2 months+ visiting Victoria's indoor recreational facilities and pools, including employees, must be fully vaccinated unless they have a medical exemption*

You will need to show proof of your vaccination status to the COVID-19 Marshall Employee before entering our facility.

Will I need to wear a Face mask?
Masks are no longer mandatory in our venue. However, we ask you to please carry a mask and wear it when you cannot physically distance.

Will I need to Covid check-in?
Yes, you must check-in using our QR code upon entry. Our COVID-19 Marshalls will assist you if you do not have a smartphone or a phone with a camera.

*Changes to showing proof of your vaccination exemption From 6pm on 12 November 2021
There will be changes across the State to show your vaccination medical exception. Following the directive from the Government, you can no longer use a medical certificate as evidence of COVID-19 vaccination exemption. If you can't get any of the approved COVID-19 vaccines for medical reasons, your doctor needs to update your record on the Australian Immunisation Register to show that you have a medical exemption.

Once your exemption has been processed, you can download or print your COVID-19 digital certificate.
PROOF OF VACCINATION REQUIRED FOR ENTRY
AS PER STATE GOVERNMENT DIRECTIVE, PLEASE NOTE ALL PATRONS AGED 12 YEARS & 2 MONTHS OR OLDER, MUST PROVIDE PROOF OF DOUBLE-VACCINATION STATUS FOR ENTRY

Opening Hours*
Monday to Friday
9.00am - 9.00pm

Saturday and Sunday
9.00am - 12.00pm

*subject to change based on facility bookings.
Booking prior to attending is essential.
Download the Active World app today!
Become a Member
As a Somerville Recreation Centre member, you will have access to ongoing support from our team who will provide the support and motivation needed to help you reach your wellness goals and supporting a happier, more active lifestyle.
Water, what is it good for?
Drinking enough water every day is crucial for many reasons: Organ function, prevention of infection, cellular nutrition, joint health and regulation of body temperature. Learn more below.
Introducing Active World
Introducing Active World – the self-managed portal bringing your membership into the palm of your hand!
Becoming Your Own Champion
Becoming a champion does not mean we need to represent our country or even our state, being your own champion is being proud of your accomplishments and setting yourself goals to work towards. How can you set yourself on your own path to greatness?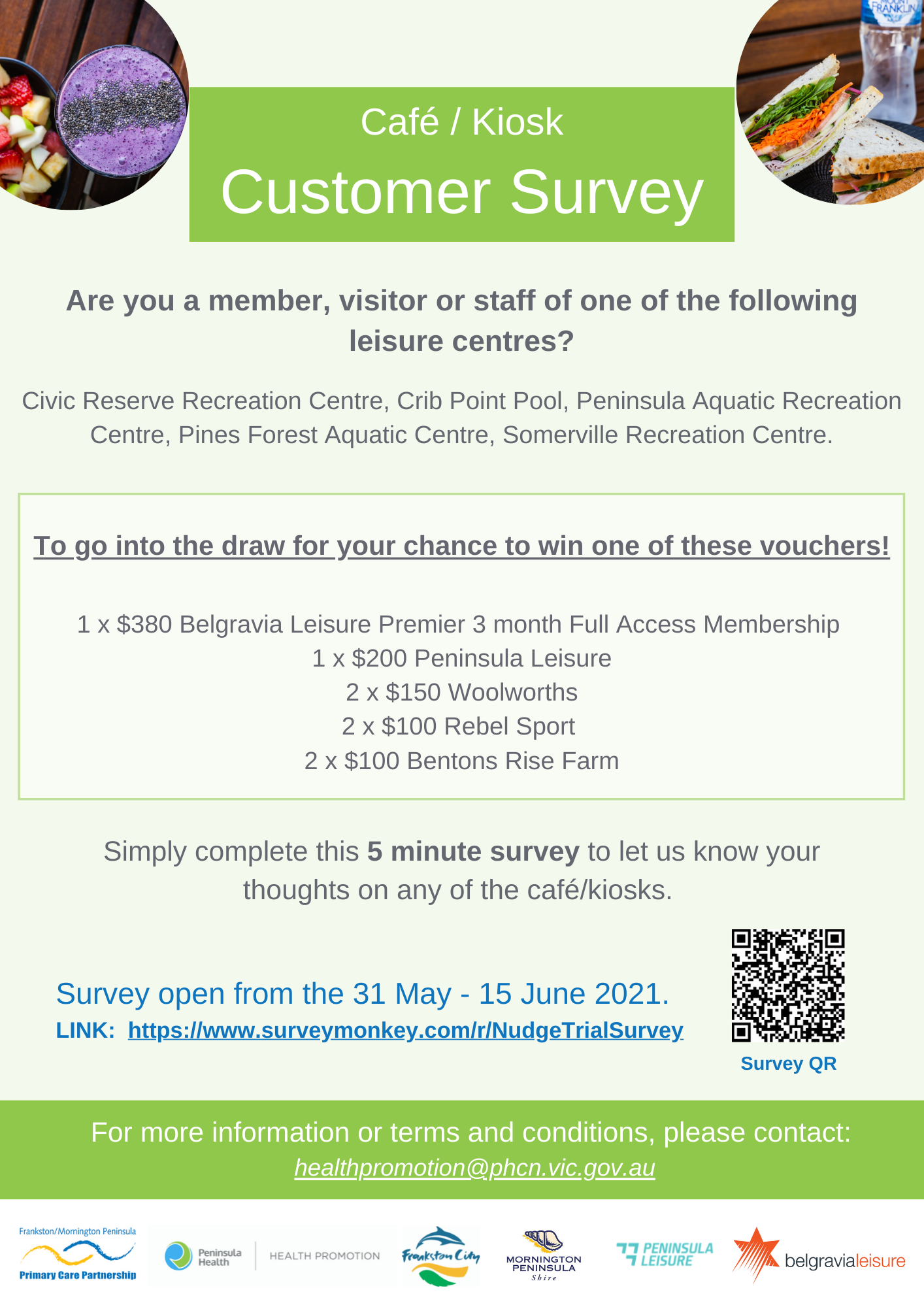 Recreation Centre Cafe / Kiosk Survey
Peninsula Health, Frankston City Council, Mornington Peninsula Shire and the Frankston Mornington Peninsula Primary Care Partnership have been working with local leisure and recreation centres, managed by Belgravia Leisure and Peninsula Leisure to increase healthy food and drink options, their marketing and promotions in and around their café/kiosks.