Welcome to Somerville Recreation Centre
Covid Closure
As per the Victorian Government directive, lockdown restrictions remain in place for Metro VIC, meaning we will remain closed until advised. Please refer to our COVID Updates page for more information. Remember to stay home and stay safe.
Welcome to Somerville Recreation Centre

The refurbished $9 million complex has put Somerville at the forefront of recreation, sport and health & wellbeing venues in Victoria.
The vision for this multi-facility complex is to cater for the sport and recreation needs of Somerville and surrounding areas, now and into the future.
The newly re-developed state-of-the-art centre has a four-court stadium, new accessible features and a range of health and wellness classes available for the community. In addition, the damaged community area has been completely refurbished and will include better public areas in the recreation centre.
Our centre provides a great opportunity for the whole region to engage in sport and physical activity and is proudly supported by our major partners; Western Port Basketball Association, Mornington Peninsula Badminton Inc, and the Baxter Indoor Netball Association.
Proudly managed by Belgravia Leisure, our centre facilities include approximately 100 car park spaces for users, with security lighting, CCTV cameras, site service infrastructure and a communications service.
Come visit Somerville Recreation Centre today to make the most of these incredible facilities!
COVID CLOSURE
AS PER STATE GOVERNMENT DIRECTIVE, PLEASE NOTE OUR FACILITY IS CURRENTLY CLOSED.

Opening Hours*
Monday to Friday
9.00am - 9.00pm

Saturday to Sunday
9.00am - 12.00pm

*subject to change based on facility bookings.
Booking prior to attending is essential.
NEW! We have a new Group Fitness Timetable
Our new group fitness timetable starts next Monday 15 February, 2021. Click the button at the top of the page to view our new timetable.
Become a Member
As a Somerville Recreation Centre member, you will have access to ongoing support from our team who will provide the support and motivation needed to help you reach your wellness goals and supporting a happier, more active lifestyle.
Becoming Your Own Champion
Becoming a champion does not mean we need to represent our country or even our state, being your own champion is being proud of your accomplishments and setting yourself goals to work towards. How can you set yourself on your own path to greatness?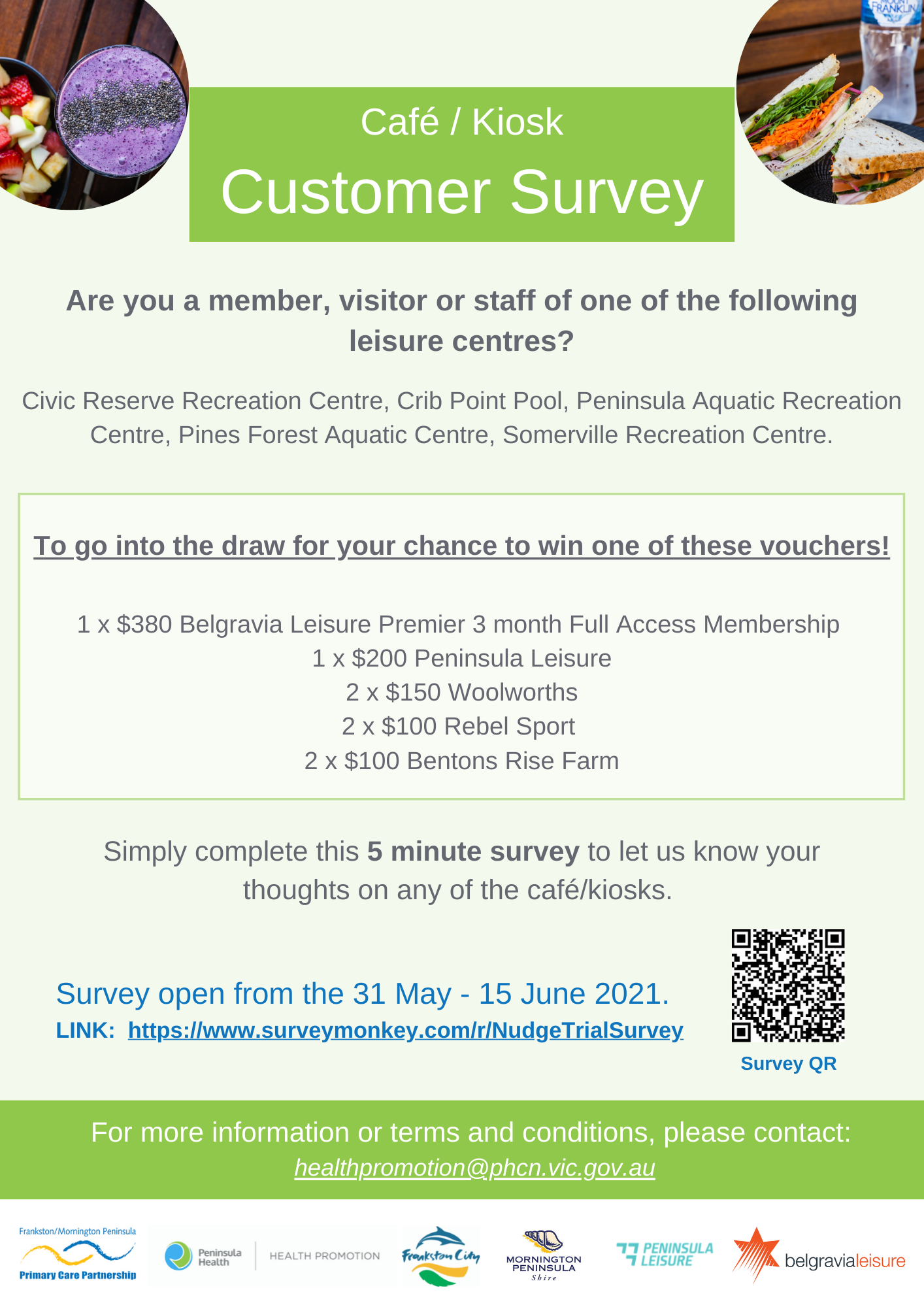 Recreation Centre Cafe / Kiosk Survey
Peninsula Health, Frankston City Council, Mornington Peninsula Shire and the Frankston Mornington Peninsula Primary Care Partnership have been working with local leisure and recreation centres, managed by Belgravia Leisure and Peninsula Leisure to increase healthy food and drink options, their marketing and promotions in and around their café/kiosks.
$2 Pocket Change Menu
Treat yourself these school holidays with something from our $2 Pocket Change Menu!
Why do so many people love group fitness?
What are Group Fitness and Wellness classes? And, why do so many people love this form of exercise!? Group Fitness and wellness classes are a group activity where people of all fitness levels can participate together in exercise to improve their health and wellbeing! Find out more about the types of Group Fitness classes avaialable today!